Riverside County Sheriff's Department
Search and Rescue Division K-9 Unit
Mission Statement:
Riverside County Search Dogs, Inc., mission is
to provide and promote Search and Rescue K-9's and handlers as a local resource
to the Riverside County Sheriff's Department, to assist local law enforcement
in the event of an emergency and to advocate public safety
to the citizens of Riverside County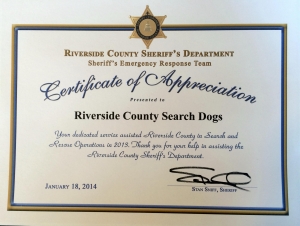 What is RCSD ?
Riverside County Search Dogs is a non-profit K-9 Search and Rescue organization formed in 1990 of unpaid, professionals on call 24 hours-a-day, 7 days-a week, as a resource to serve the Riverside County Sheriff Department.
Through Riverside County Sheriff's Department – Search and Rescue Division, the K-9 teams are available year-round, regardless of personal inconvenience.  RCSD responds to local law enforcement as well as other public agency requests in the mountains, deserts, or urban areas.
Riverside County Search Dogs can be called upon to service the community for a variety of reasons, such as:
A missing child.
An overdue hiker.
An Alzheimer or Dementia patient who has wandered away.
Search and/or Recovery of Human Remains.
Cold case investigations.
After an earthquake to rescue persons suspected of being trapped.
To educate children and adults on the safety of camping and hiking along with emergency wilderness survival techniques.